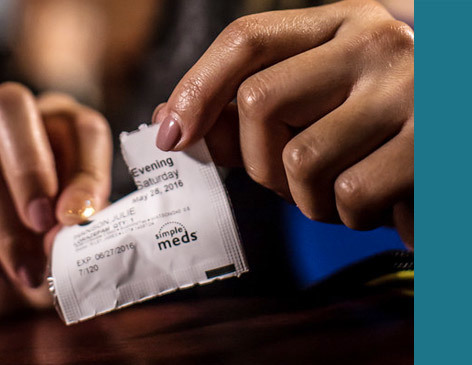 Call

We'll start with a phone conversation to acquaint you with the details of the Simple Meds program.

Consult

Our Customer Experience Coordinators will gather information to help you transition into Simple Meds.
Verify

Simple Meds pharmacists and staff will review your medication profile and contact your doctors and insurance companies to ensure accuracy.

Dispense

Once verified, we will package your medications according to your doctor's instructions. Your multi-dose packet will indicate the date and time it should be taken, just as your doctor has prescribed.
Refill

We'll track your refill needs and contact you, your doctor and any caregivers involved each month to make sure you have all necessary medications on hand.
Questions about a Specific Medication?
Our pharmacy team members are on site and ready to discuss your medication regimen. Call us at 615-645-MEDS to get expert guidance for your unique medication needs.